I'm just now getting around to downloading and uploading pictures taken from Thursday morning on. What takes seconds to upload at home takes an hour or more here. Frustrating!
Here are pictures from Gotcha Day.
This is the home where Axel has spent the last 2 1/2 years. It is small, about the size of a trailer home, and the inside is neat at tidy. There are *many* mementoes from their lives proudly displayed in ever nook and cranny. The decorations are left over from a wedding that took place..umm...awhile ago I think. I think it is customary to leave them up a certain amount of time for good luck.
This is the oldest son of the foster family, along with his wife. They are VERY attached to Axel, and had a very difficult time saying goodbye to him. She helped Axel get into his new clothes.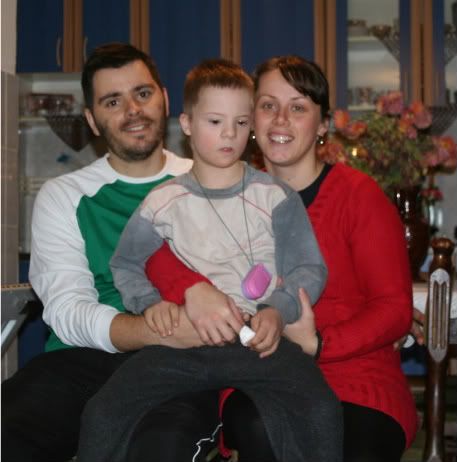 This is Axel and his foster father. They share a close bond! Although the father looks imposing in this picture, he is a very gentle, caring man. He didn't hesitate to get on the floor and play with Axel, or bring the 16 month old new foster baby (who also has DS and is a.d.o.r.a.b.l.e!) to the floor for me to see him and Axel to play with him. Axel is going to miss his foster father!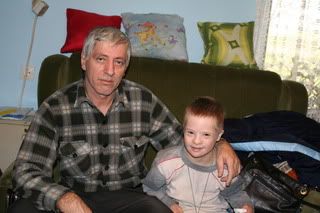 Axel in his "going home" clothes. Oh, how he loved his new clothes. The ones he was drowning in. His father pointed out that they're both wearing plaid now, which Axel thought was pretty cool! Everyone tried hard to keep the mood light and happy for Axel so he would not have any anxiety about going with me.
I did not get pictures of the final goodbyes. Those are memories to keep in my mind and heart, and for his family to keep as well. Besides, it's hard to take pictures when you're sobbing as you take someone's child away forever.